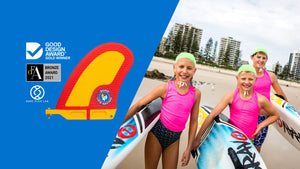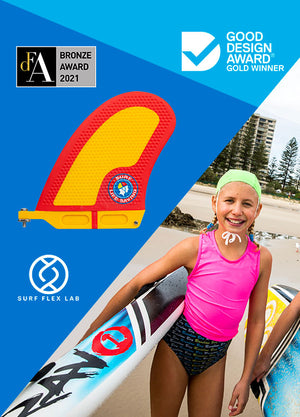 Surf Life Saving Australia Competition Approved Nipper Fin
PROTECTION & PERFORMANCE
THE ONLY FIN APPROVED BY SURF LIFE SAVING AUSTRALIA
Surf Life Saving Australia Competition Approved.
Meets all Surf Life Saving Australia fin specifications for Nipper boards.


MULTI-AWARDS WINNER
This multi-award winning fin design will transform board performance and safety in surf life saving.
***Australia Good Design Gold Winner 2021***
***DFA Design for Asia Awards Bronze 2021***
DIMPLE TECHNOLOGY + SOFT DURABLE MATERIAL
The world's only high-performance fin designed with safety in mind. It's stiff inner core ensure maximum performance, while the soft outer skin greatly reduces the chance of cuts and injuries.
NIPPERFIN™
SAFER / FASTER / TOUGHER
Our Eco Friendly sustainable packaging is recyclable and manufactured with low production waste.
Third Party Performance & Safety Review
Preliminary findings by the University of Wollongong, Australia:
3DFINS NIPPERFINs are:
- Significantly softer than standard fins
- Their soft edges deformed under 40kg load
- Absorbed 50% of the impact force when striking an object
Learn More
Contact Us for Surf Life Saving 3DFINS Custom Sponsor Program